Working with INTUR (Nicaragua Ministry of Tourism) at AARP
Posted by Kent Payne on May 9, 2014

I was pleasantly surprised and honored to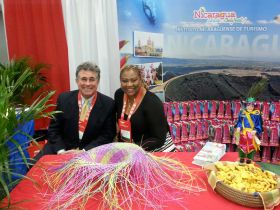 be asked to attend the AARP conference in Boston, MA just this past week, May 7th.
We had the pleasure to attend the conference and join thousands of attendees as they took a look at new opportunities of how to live life past 50 years.
Pictured are me (the old one) and Catalina Gordon who lives in Managua and works the government's Instituto Nicaraguense de Turismo INTUR. We handed out lots of advertising (called propaganda in Spanish) to anyone who wanted to visit or hear about lifestyle in Central America.