Barro Colorado, a Worldwide Research Center in Panamá
Posted by Lourdes Townshend on November 9, 2013

Barro Colorado… bird watching and scientific research center.
The 1,560 hectare (3,854 acres; a little over 6 square miles) island of Barro Colorado is situated in the man-made

Gatun Lake, in the middle of the Panama Canal. This island is the primary site of the Smithsonian Institute for the study of tropical forests. The Smithsonian also has additional land adjacent, which, together with Barro Colorado island totals 5,600 hectare (13,838 acres; about 21 1/2 squre miles) and is known as the Barro Colorado Nature Monument. Barro Colorado island is the largest forested island in the Panama Canal waterway, and an internationally recognized biological research station.
Established in 1923, it has been administered by the Smithsonian Institute since 1946, with remarkable results. Over 235 scientists from around the world visit on a yearly basis. Barro Colorado was declared a Nature Monument in 1979.
Visits to the site are restricted, and should be booked in advanced.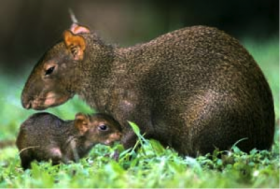 One visit to Barro Colorado is a unique experience, and offers the opportunity to discover a whole new vision of what a humid tropical forest really is, and is among the most-studied areas of tropical forest in the world.
And it is one of the sites with the longest history of continuous research in the New World tropics. National Geographic produced a documentary featuring the Barro Colorado Island, naming it as the "World´s Last Great Places". Also several books have been written about it. Princeton University has also contributed to develop recording information.