Go Wild Driving In Panama!
Posted by Lorna Culnane - Peace Of Mind on January 5, 2015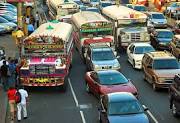 I often get asked what driving is like in Panama, especially for a Brit who was used to driving on the opposite side of the road with the steering wheel on the opposite side of the car!
Driving in any part of Panama City is definitely a crazy experience! One that I now seem to have mastered, as before working for Try Panama I worked for a Secure Transport company called Panama Roadrunner.
Arriving at the airport here in Panama, after your flight, regardless of how long or short it was, the last thing you want to do is fight with the car rental company at the airport, which will take you at least another hour and leave you frazzled, not to mention, a lot poorer than you thought, especially once the rental company adds on all the extra insurance costs they forgot to tell you about when you booked and paid for it back home! You will certainly not enjoy driving across the city where all the signs are exclusively in Spanish and you have to master one of two toll roads (which no one explained to you that you needed a card to get through!). I did this three times before I learnt there were much better ways!
Or of course, the other option is to hop into a yellow taxi - say goodbye to at least $100 and be prepared for the scariest ride of your life, weaving between the traffic at high speed, probably holding onto the car door that has a broken latch, looking at the bonnet which has tape holding it shut and cellophane for the windows and oops, sorry, the air conditioning is broken! I did this once. Not an experience I will rush to have again!
You could always try the bus system. The small white buses that look like a mini bus are air conditioned, if a little over full, so you may have an issue getting your luggage on with you! They are however, very cheap, very fast and are everywhere! I have still not tried them as their driving looks terrifying!
Any way you choose, you will witness something very strange. Panamanian people, who are normally calm, laid back, gentle and kind with that fabulous 'mañana' attitude, suddenly become demon drivers who have to be somewhere yesterday! Horns tooting, lane changing, no such thing as indicators, I think you get the picture!
One thing we can recommend here at Try Panama, regardless if you are coming to rent with us, or you are coming to Panama to look around with an idea to relocate here, Panama Roadrunner is run by Canadian's Denise and Neil. They have a crew of English speaking drivers who are all fantastic (I know, I used to be one!) It is a professional and reliable transfer service that can be booked directly either by phone or on line. They will not only get you safely and calmly from the airport and back, but they offer local tours, city tours, relocation tours, days out and even take you to places like Jungle Land where the only 'wild' experience you will have, is the one you wanted.