Panama City Old and New
Posted by Linda Jensen on March 24, 2014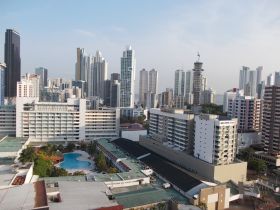 When Bente and Jorgen (Arne's sister and her husband) arrived from Denmark we took a short tour of Panama City, it was a wonderful tour in a nice, clean, large van with and an English speaking Panamanian. Traffic and tall buildings are both a wonder and an assault on the senses at the same time. Beauty and poverty live side by side. Old, very old buildings look as if they are disintegrating as they sit in the shadows of elegant hotels and sky scrapers. (The photo to the right was taken from Hilton Garden Inn.)
There is a Pacific Ocean view from most tall buildings. People and peddlers crowd the main streets, horns honk, and drivers cut in and weave out of bumper-to-bumper traffic. Yellow cabs are active day and night. Buses are metro looking in the city, however some of the brightly colored and individually painted school buses still traverse many areas of the city. It is a lively city with a mix of people from all over the world. Hotels offer good rates and comfortable amenities. Restaurants provide a wide range of food choices with an international influence. Bars and pubs seem to dominate almost every corner. The streets are often in some state of repair or disrepair. There seems to be an abundance of construction going on all over the city.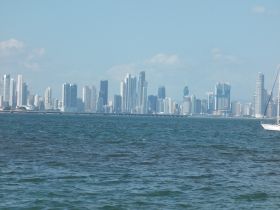 As beautiful as the sky scrapers are there is an elegance about the buildings of old town. European influence along with a Spanish theme fill the tiny streets along that area. The ocean laps at the sea walls at the ends of the streets. It takes you back in time and you feel like you are part of a bygone era.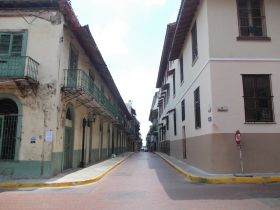 The Panama Canal is a must see and expect to take up to three hours there. It is an amazing feat to see how the men of that day and age managed to deal with the design, construction and mother nature to build this marvel of economic and time saving wonder for ships from all over the globe.
There are many side trips to see, the marine life, museums, government offices, mega shopping centers, casinos. It is amazing and one or two days is not enough to cover it all properly. Even the neighborhoods with beautiful homes and estates are often close to crowded barrios full of poverty. Yet all in all Panama City is a breathing, living organism, and the old gives way to the new. A bright future is the expectation I have for this awesome city. Here are more photos: