Transportation in Panamá
Posted by Lourdes Townshend on March 5, 2014

TRANSPORTATION IN PANAMA
Panamá has had an amazing history of transportation,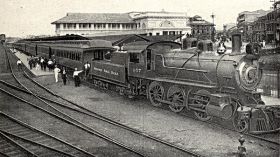 dating back to 15th century. The story tells us that a
t the beginning, horses transported gold and precious metals between Indian villages, and then, this transport was taken to the king's authorities in South
América
though Panamá, and, ultimately, to their final destination in Europe, most often, to Spain.
After that, when Old Panamá was burned and vandalized by pirates and the new city was built, which is now known as "CASCO VIEJO" (named a Humanity Patrimony by the UNESCO, due his historical importance) a new era started with a city electrical trolley, which was transportation for all

residents in the area.
Years later, in 1849, due to "gold fever" in California attracting thousands of people, the idea of an inter-oceanic railroad in Panamá became a reality. In order to accomplish this, a 77 kilometer (48 mile) railroad was built through the Isthmus of Panamá, going from the city of Colón on the Atlantic Ocean, to the city of Panamá, on the Pacific Ocean. The construction began in 1850, was open to the public in 1855 and later, was named the first Transcontinental railroad. This railroad has been modernized through the years, and today, it is a beautiful and attractive journey for tourists, parallel to the Panamá Canal.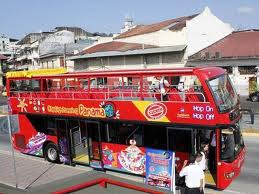 In the present, in the city of Panamá and the "interior" of the country, with the exception all the transit which passes through the Panamá Canal, we can find several ways of transportation:
Tourist taxis, which usually belong to a reliable transportation center.
Various taxi companies, which must have a license, and which offer their services for tourists or for transportation between one place to another. Most of these are mini vans.
Small taxis, which are painted yellow and must be identified by a number. These are very inexpensive and go from one place to another all day long. Sometimes it is frustrating, because when you stop them, many times they will simply say "no". But the authorities are trying to bring them into compliance with the requirements. If you have questions or which to verify anything, always ask a local, or the hotel employee.
Public buses. As of last year, Panamá only had old painted school buses serving as public transportation within the city. But these were changed to a modern bus fleet with air conditioning and very comfortable seats. If you're a visitor, these public buses can also serve as a good city tour. The only thing is, if you are not familiar with all this, it can be pretty hectic, unless you have a good orientation from residents or advice from your hotel manager, because you can easily end up in an undesirable area.
For transportation between cities, there are also mini-buses or big comfortable buses that run all day long. You can pick them up at the Albrook Bus Terminal (adjacent to the mall) for a minor fee, from $3 to $10. During peak seasons or holidays, these busses are very crowded, totally full. They can take you to cities like Boquete, Coronado, Chitré, Pedasí, and to Bocas del Toro, where you can take a boat to visit the different isles.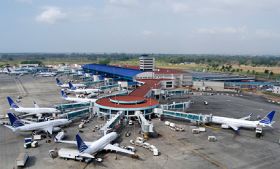 There are many major airlines that connect Panamá with the world. COPA, the Panamanian airline, has a hub here, and connects visitors to cities throughout Central, North and South América, as well as other continents. It also offers domestic flights to several cities in Panamá, as does Air Panamá.
The main airport in Panamá is TOCUMEN, which is located about 30 minutes from the city, taking the "Corredor Sur" (a beautiful highway by the Panamá Bay). There are also other airports available, like the "Río Hato" located in the middle of the country, serving mainly the Pacific beach and resort areas.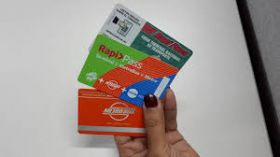 Also in Chitré, Chame, David, Bocas del Toro and Darién, there are smaller airports for domestic routes.
And last but not least, the METRO will be inaugurated next month, in April, 2014, as a very modern way of transportation. First it will cover neighborhoods between Los Andes to the Bridge of the Americas, at the Panamá Canal entrance, Pacific Ocean side. Part of the route will be an overpass, and the other will be underground. This is the first metro in Central América, and Panamanians are very proud of it.