Historical Ft. San Lorenzo, Colón, Panamá
Posted by Lourdes Townshend on October 25, 2013

Fort San Lorenzo, Colon, Panama
Continuing with the history of the beautiful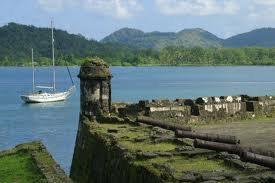 Caribbean ocean coast of Panama, one of the oldest tourist sites is the San Lorenzo Fort, near Portabelo and Fort Sherman, built by King Felipe II, from Spain in 1598, situated at the entrance of the large Chagres River, in the province of Colon, Republic of Panama.
San Lorenzo Fort was declared a Patrimony for the Humanity by UNESCO in 1980 for several reasons, including it being historically one of the most important sites for defending against ships attacking Panama; for the transatlantic commerce of the Spanish Crown in the 15th century and thereafter, and being one of the oldest Spanish forts on the American continent.
Pirate Henry Morgan came into Old Panama through the Chagres River to take the gold and burn the city. Pirate Sir Francis Drake came through in 1572. There is now a private island near Portabelo in which there is a very popular tourist site where you can take a tour, eat splendid lobster, and spend a nice day in the sand, taking in the sun. You can also see first hand where it is said that pirate Drake's ship is (although this is a matter of terrible discussion between Panama and Spain, because each one claims ownership).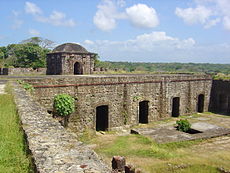 Under the instructions of pirate Henry Morgan, the fort was attacked by land in 1670 by Joseph
Bradlely
with 400 men, because it´s rock wall made it totally impossible to attack from the sea.

In later years, after some reconstruction, St. Lorenzo became a jail. Some famous people were in that place, due their political or criminal activities.

In 1908, under a new law, St. Lorenzo was proclaimed for the conservation of certain antique buildings, including this fort. In 1941 it was declared a national monument. In 1995 it was rebuilt by the US Army. In 1966 new excavations discovered new cannons, whose purpose was to dominate the entrance from the sea and avoid surprises like in 1671.

Interesting additional activities in this area are: backpacking, bird watching, diving and kayaking. But it is advisable to take a tour with any professional tour operator, due to it being an isolated place and lately sort of abandoned, which is a pity. But hopefully the Tourist Authority will take this site as a project for full renovation soon, and bring back the splendor of it.

(Translated in part from the Spanish version of Wikipedia.)